How Do I Convert a Social Media Page into a Website?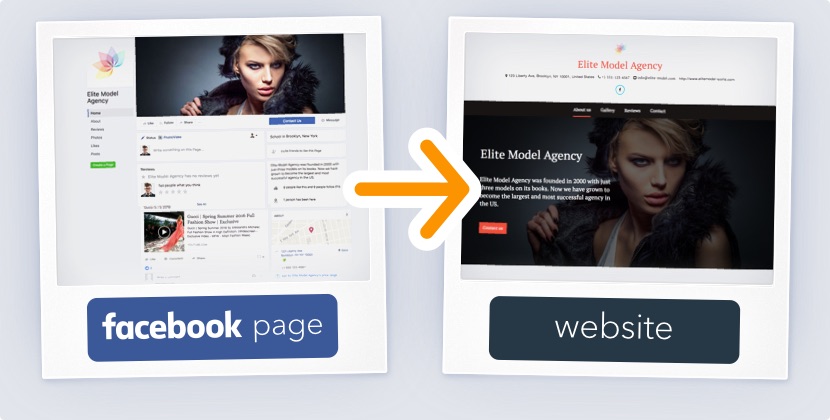 As early as a few years back those who asked this question would have been given a puzzled look but now creating a top-notch adaptive website with its content being imported from a social media page is actually a matter of several minutes - thanks to uKit!
Is It Secure?

Perhaps, this is the first thing to be concerned of as many people have faced the problem when their social media accounts were hacked.
uKit is using an official Facebook API and all data exchanges happen through a secure HTTPS protocol which completely eliminates the risk of your data being taken over by someone else.
What Will Happen to My Group or Community?
The second most common question our users ask is closely related to the first one and occurs for the same reason - those users who are running a Facebook community can be afraid the conversion may affect the page they put so much time and effort in (some money might have been spent for promotion and driving traffic as well).
Nothing will happen to your group or community. The uKit Alt converter does not turn your social media group into a website but makes a one-time copy of the info your page contains, and arranges it in a proper way on the automatically-created website. Your community name is placed in the top part of the website (header), your posts — on the News page, a link to the group — in Contacts, and so on.
So, in just a few minutes you get a ready-made website filled with your company info or with the list of provided services. The website can be promoted in Google and attract new customers who don't have social media accounts or consider social platform not serious enough to run a business.
What Social Media Allow Conversion?
At the moment, we have a converter for Facebook pages. We chose Facebooks for 2 reasons: first, it's popular with Internet users and second, it has an intuitive and user-friendly API that allows to easily copy all necessary information to a website at no risk.
Should I Be a Group Founder or Admin to Convert it into a Website?

Not necessarily. However, if you convert a community that belongs to someone else, you should remember these things:
you won't be able to copy additional information such as reviews or products/services offered in the group
there's a risk of infringing copyright and a website can be blocked on a request of the copyright holder
In other words, converting a group that belongs to someone else doesn't make much sense. It can be done if you are interested in the feature and would like to try it, or surprise a friend.
Apart from that, this tool is meant for admins of social media communities who feel the need for increasing the reach and would like to try running their business beyond social media.
How Much Does This Service Cost?

One more important question that we are always glad to answer because converting your social media page to a uKit website is absolutely free. "What is the catch?" - that's what half of our users typically ask when they learn that there's no charge for transferring their data to a uKit website.
Actually, there's no catch as your website will be hosted on uKit with the subscription fees starting at a relatively modest price of $3.5 for unlimited hosting. Besides, after converting your Facebook page, you will get a 14-day free trial period. It's more than enough to see if this website is exactly what you need, whether it helps your business and is worth further maintenance. If in the end you realize you have a different vision of your website or you don't need a website at all, you will be able to delete it at any moment.
Turn Your Facebook Page into a Website
Tip:
No time to build your website or you feel it has to be special? Order a customized ready-to-go website and our specialists will make it for you in just 10 days.
Why is my Facebook page not found in the search?
Most probably, your page is not published yet or has a limitation. You can check and change that in your page settings.
What content is taken from a social media page?
We take photos, cover photo, logo, theme, posts from the feed, contacts, reviews, events, page info.
Why has not all data been transferred?
We have data limitations that were set to speed up the conversion. At the moment the limitations are: 12 reviews, 50 photos, 50 posts, 12 events. If you need to upload more data, this can be done on request.
Is there a limitation for a number of Facebook pages I can convert?
Yes, you can import up to 30 pages that belong to you and up to 5 pages that belong to someone else.
What domain name will my website have?
That will be a technical domain name like 9dglb1zobb8n.ukit.me. Later, you will be able to connect your website to a custom domain name or buy a new one if you don't have any.
Do I need to do anything after the conversion?
If you are happy with the way your website looks, publish it. Then enable statistics, verify the website with Google, connect or purchase a domain name, and subscribe to the Minimal plan. After that, you can update and promote your website.
Was this article helpful?
38
people found this article helpful.