How Do I Choose a Domain Name?

A domain or domain name is a unique identifier of a website on the Internet. More often than not, website owners use keywords that describe their business or a company name when choosing a domain. We recommend considering this in the first place, as this small string of characters that make a domain name can help your visitors understand what your business is about and what services you offer. A domain name should be thoroughly selected — it is the first thing your clients see, and the lion's share of your success depends on it. For example, writers and bloggers can use a combination of their first and last names as a web address, while for companies it is a good practice to use either the very company name or keywords related to the company's services. Either way, it is important to make your domain name memorable and easy to understand.
Choosing the right domain extension is of no less importance. Make sure to choose one that works for your business taking into account your industry and meanings of the top-level domains. If your website is targeted at a specific country, it's recommended to use a corresponding domain ― .uk, .ca, .au and so on. Thematic domain extensions (.com, .biz, .net, .org, .info) are worth choosing only if they completely match their intended use. If your business is local, consider adding your city in your domain name to make it easy for local customers to find you. Example: NewYorkPhotography.com.
But choosing and registering your domain name is half the battle, as you will still have some work to do. Your next step will be to connect it to your website by configuring DNS records and other technical details. Basically, you purchase a domain name from one company, physical space to store it (aka hosting) from the second and a website itself from the third. The whole process is pretty much inconvenient. If you want to get a domain name, hosting and a beautiful website all in one place and won't break the bank, uKit is the perfect solution. This is an easy-to-use website builder that even newbies can master.
To get started, you need to sign up for the builder. uKit allows you to connect a custom domain or purchase a new one (second-level domain) directly from the dashboard, at any time. The whole process will take just a few minutes.
Why Is It Worth Buying Your Domain Name from uKit?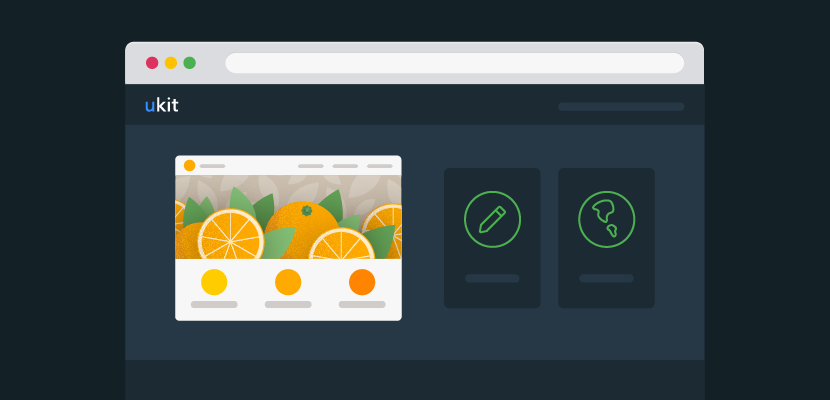 First of all, you buy a second-level domain name directly from the dashboard, it quickly interacts with search bots and ranks high in search results.
Second, when buying a second-level domain from uKit you become its rightful owner, the name belongs to you only.
And third, you purchase a domain from the comfort of your home using a payment method that best suits you. It can be done with a bank card or PayPal payment system.
Fourth, thanks to the dashboard's intuitive interface registering a domain name is a walk in the park. Just navigate to Domains > Buy domain. Next, enter the desired name and the system will offer you several options with different domain extensions. After that, click Buy and type in your payment details to complete the purchase. The last step will be to fill out the domain ownership form.
And fifth, you can connect a domain to your website all by yourself without having any troubles. Go to the Domains section, select the domain name you purchased from uKit and choose one of your websites you'd like to connect it to. That's it, no other actions are needed from your side.
Finally, you can connect an SSL certificate to your website and it won't cost you a penny. It will help you get your website rank higher than competitors.
Was this article helpful?
37
people found this article helpful.