What Is a Widget?
A widget is an essential building block pre-set with default content and having a certain function. Widgets are divided into categories that can all be found in the Widgets tab of the left panel.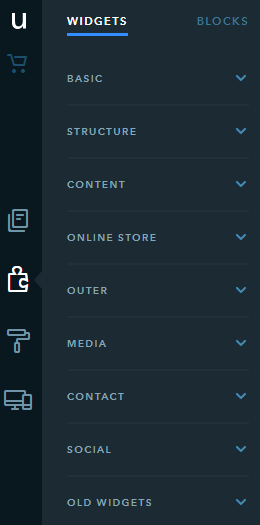 Basic
This is a basic set of elements necessary for creating a website.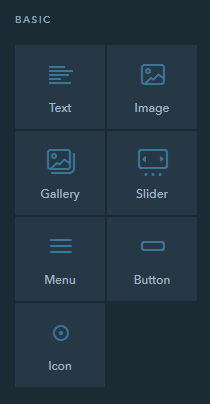 Heading: Helps to arrange content into groups that are visually discernable
Text: Basic content of any website. You can choose the text style, formatting and color
Image: Upload your image or choose one from the library
Gallery: Helps to arrange pictures in a beautiful way
Slider: A set of slides, each may have a custom text and design
Button: Is used to display a call to action or to embed a link
Icon: Is used to point out key aspects of the text and add a visual highlight to the content
Structure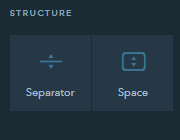 Separator: Helps to separate website elements from each other in a neat way
Space: Creates an empty space between widgets
Content

Card: Is perfect for showing selling points and offers or describing products and services
Price List: A list of products and services with their short description and price
Table: Can be used for arranging large amounts of info in a consistent way
Reviews: Allows to add up to 9 reviews about your products, services or work
Steps: Horizontally arranged sequence of steps
Timeline: Vertically arranged sequence of steps
Quote: Allows to complete the website content with a quote
Timer: A countdown to the end of a special offer or product launch
Google Search: Helps your visitors find what they need within a website
News Widget: Shows a preview of the latest news added to your website blog
HTML code: Allows to embed and edit custom HTML code on the website pages
Online store
Product: Built-in online store widget by uKit
External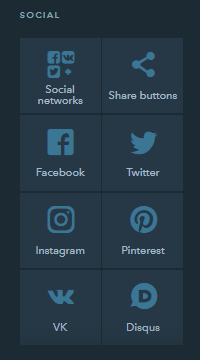 Ecwid: Online store widget by Ecwid
AddThis Sidebar: A simple tool to add a sidebar with Share buttons to your website
Cost Calculator: Creates a cost calculator for your products or services, questionnaires and feedback forms with the help of uCalc
Weather: Shows current weather and forecast for several days for a selected city
Media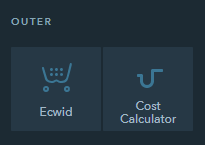 File: A document, software or any other file that can be downloaded from your website
Video: Allows to embed a video from YouTube or other video hosting
SoundCloud: Allows to add tracks from SoundCloud service to your website
Contact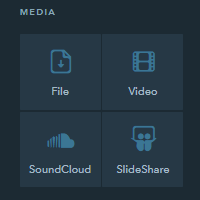 Contact Information: Displays your contact details
Contact Form: Helps you create a feedback form, an order form, or a review form
Callback: Allows your website visitors to request a callback
Map: Shows your company location on the map, specifies your business hours and other useful information
MailChimp: A service to send automated emails. Place a MailChimp form onto your website and collect subscribers
LiveChat and JivoSite: Online chats to provide live support to your website visitors
Social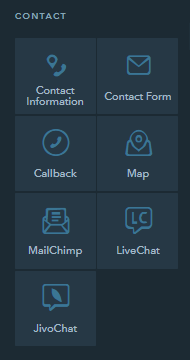 Social networks: A set of links to your social media accounts or groups
Share buttons: Create Share and Like buttons for your website with uSocial
AddThis Sidebar: A simple tool to add a sidebar with Share buttons to your website
Facebook: Shows the feed and followers of your Facebook page
Twitter: Displays the stream of your Tweets
Instagram: Shows pictures of your Instagram account
Pinterest: Pictures from your boards on Pinterest
Was this article helpful?
36
people found this article helpful.