uKit Online Store
To enable an online store, drag the Product widget to the website.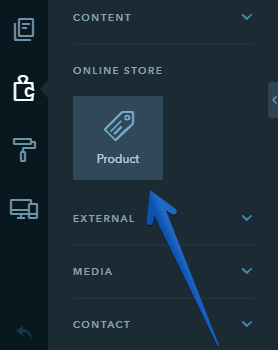 In the Product widget settings, you can:
add a picture of your product
indicate the price
add a product description
set up statistics collection as you do for the Card widget

Note:
You can add an unlimited number of online store items.
To go to the store settings, click on the "cart" icon in the top left of your screen: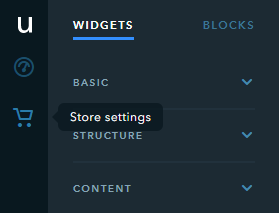 It will open the following tabs:
Settings: Choose currency and units of measure that will be used in your store, set up what happens when an item is added to the cart
Order form: Customize the order form by adding a message for buyers and setting up the order fields
Shipping: Set up and edit shipping methods and delivery price
Payments: Connect and configure payment methods
Pages: Configure the design of the page and the message displayed after the order has been placed
To customize the design of the cart, click on it.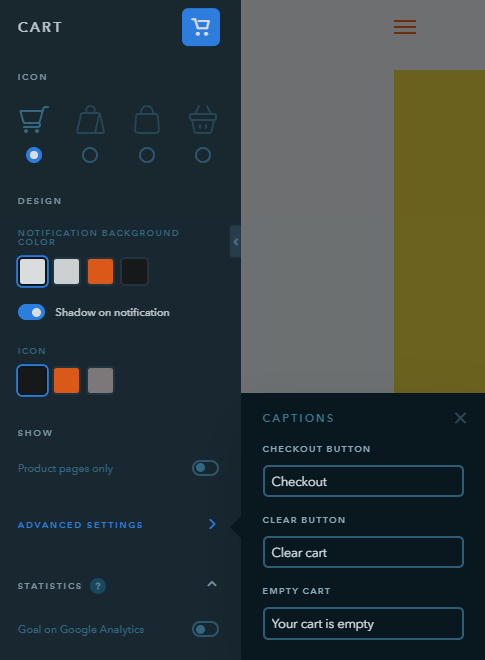 You can change the following settings on the left panel:
choose the notification background color
choose the icon color
show/hide the shadow on the notification
choose where the cart notification is visible on the website
edit the cart captions
enable goals on Google Analytics
Note:
By adding the Product widget to your website, you start a 14-day trial period when you can set up and test all features of the online store. Once the trial period is over, placing orders on your website will be suspended. If you would like to keep your online store up and running, you will need to subscribe to the eCommerce or Pro plan.
Was this article helpful?
41
people found this article helpful.