How Do I Connect and Set Up MailChimp?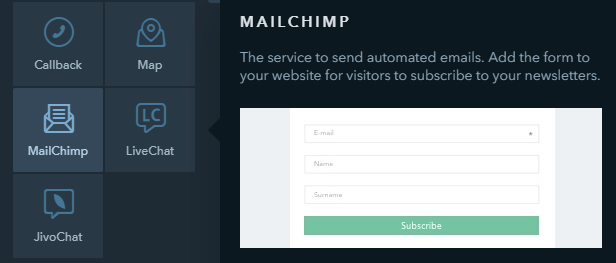 The MailChimp widget allow you to set up sending newsletters to those who subscribed to your company's news. MailChimp can be used for:
pre-built automatic email marketing
sending emails manually to all your subscribers at once
How Do I Create an Account with MailChimp?
Add the MailChimp widget to any page of your website and click on the widget. It will bring up the settings on the left — click on Create an account on this panel. You will be redirected to MailChimp where they will offer you sign up: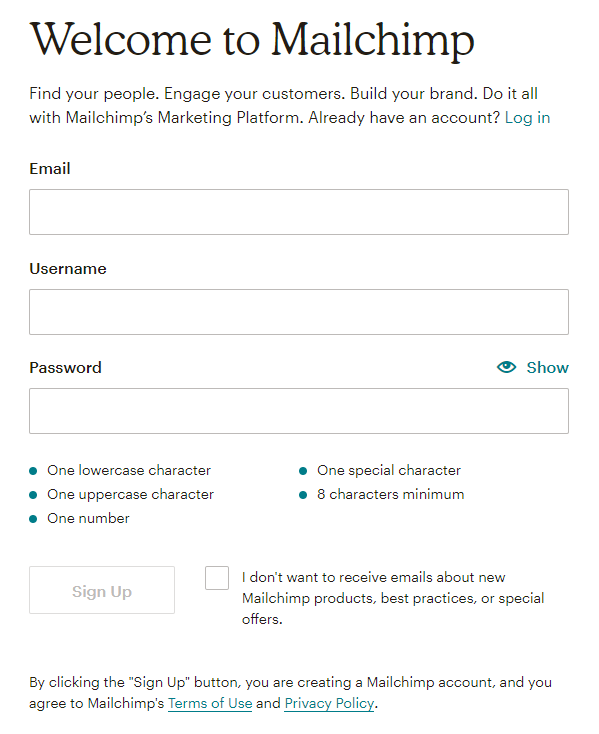 Enter your credentials and click on Get Started. Then, you will receive an email from MailChimp containing the Activate Account button for you to confirm your account. Click on it to complete the registration.
How Do I Connect My MailChimp Account to uKit?
In the Builder mode, click on the installed MailChimp widget and choose Connect account on the left panel. In the window that will open, enter your MailChimp username and password to connect your account to your uKit website:
Your MailChimp account is now successfully connected.
How Do I Set Up an Email Campaign?
To create a campaign, log in to MailChimp from your uKit page. Once you are signed in, select the Lists tab, and click on Create List.

On the page that will open, you need to specify:
list name
default From email address
default From name
remind people how they signed up to your list
company name
your email address
Note:
Do not activate the Enable double opt-in option, otherwise the widget won't be working on your website.
Once the new list has been successfully created in MailChimp, update the list in the form settings and select the necessary list: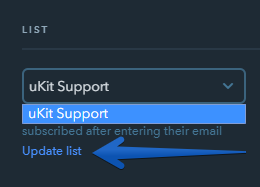 Note:
If the MailChimp form isn't working on your website, please make sure one of your lists is attached to the form and re-publish the website.
Was this article helpful?
6
people found this article helpful.