uKit Premium Designs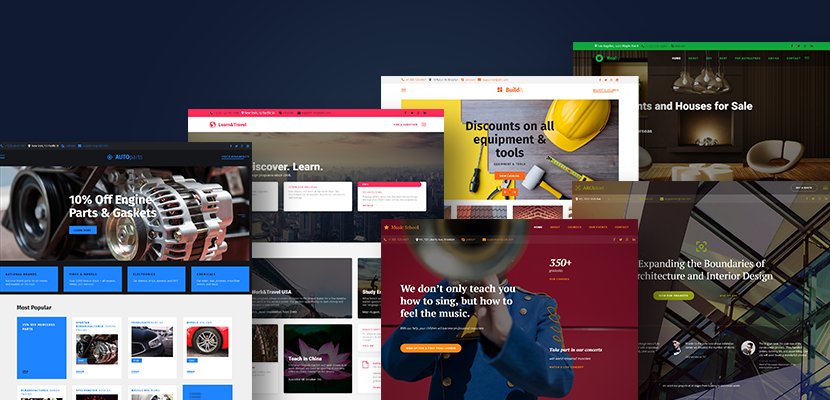 A great choice of various designs is one of the main advantages of uKit website builder. They differ from one another in structure, design, images, color scheme and themed texts. All our designs look gorgeous and will be definitely attracting new customers. You can choose from over 300 designs that are split into categories: automotive, architecture and design, home appliances and electronics, furniture, health and medical care, sport and fitness, and so on — 37 categories in total and a set of general designs. By choosing an industry-related design you will simplify the customization process of your website as it will already have thematic demo texts and pictures. The only thing left to do is to customize it.
With this set of designs, your business has a good chance to take off. But there's no doubt any business owner is dreaming about increasing revenue. This is possible — with uKit premium designs. Thanks to the best design solutions, these templates look top-notch and trendy. You will have freedom to improve and customize the website, which as a result will help you accelerate your company's income by selling more products and services.
Premium designs are available at a very affordable price. They can be bought separately from a subscription plan for just $20. No matter what your plan is, the purchased design can be used for an unlimited number of websites within your account. This is much cheaper than buying templates from other website builders, and a way more budget-friendly than ordering a customized solution from design studios. You will also have an unlimited access to any of the premium designs if you are a Basic, eCommerce or Pro account holder.
At the moment, we have 6 premium designs: Auto Parts, Real Estate Agency, Architecture & Design Studio, Music School, Study Abroad Programs, Building Materials. Of course, those are working titles and you can easily change the default data to any information you need. Premium designs can be found by enabling Only premium designs filter.
Before making your final choice of a premium design, you can click on the Preview button to find a design template that is perfect for you. In the preview mode, you can check out the template design, structure, how it looks on different devices and in different color schemes.
With a premium design, you don't need to spend time on arranging and configuring website elements. It's specially created to ensure the best experience for your visitors when exploring the website. Replacing the default texts with custom ones is enough to get your website all ready to receive its first visitors.
Also, we have improved the way a navigation menu works in premium designs on mobile devices. Now a navbar dropdown has modern design and is more convenient to view on small screens.
A hover effect is one more interesting feature of premium templates. When visitors mouse over a website picture, it "comes alive" by zooming in and out. A hover effect will make any website engaging and enticing. Users will be tempted to mouse over everything they see and watch what happens to the pictures. As a result, they will spend a while on your website being exposed to your company products or services — that will definitely increase your chances for a successful sale.
Needless to say that getting a premium design for your website will eventually pay off and make your business thrive.
Was this article helpful?
38
people found this article helpful.